What Times Does To A Person
[
Russell Crowe, Elizabeth Banks, Jason Beghe, Lennie James
]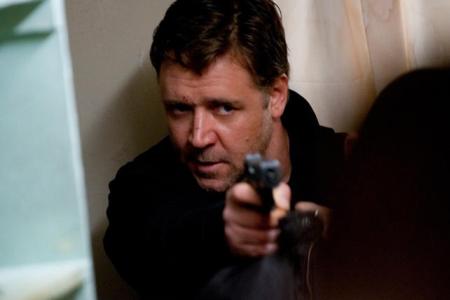 image from sheknows.com
RANT:
Returned to the more familiar surroundings of the first matinee of the weekend. Oh such a more peaceful setting as I walk into the empty theater as the first person with the choice of any seat in the house. Of course, more people did arrive, but I could imagine being a millionaire in my own private home movie theater.
SYNOPSIS:
A man's life is turned upside down when his wife is alerted and convicted of killing her boss. After three years, he is at his wits end and starts planning a daring breakout.
Paul Haggis takes some writing credits and directs "The Next Three Days" based on the screenplay, "Pour elle" by Fred Cavaye and Guillaume Lemans. The Oscar winning writer and director of "Crash" returns to a higher profile effort after a TV movie, the movie "In the Valley of Elah" in 2007 and the short-lived TV series, "The Black Donnellys".
Russell Crowe stars as John Brennan, a dedicated community college literary teacher, whose life is turned upside down after his wife Lara, played by Elizabeth Banks, is arrested for the homicide of her boss the previously day. The physical evidence is strong enough to convict Lara and put her away in a Pittsburgh lockdown while John tries to overturn her conviction on appeal. As the last appeal runs out, both John and Lara realize that their hopes of her freedom have run out as well. Sure of Lara's innocence and worried of their son Luke's continuing withdrawal and trouble at school, John decides to plan Lara's escape.
Liam Neeson makes a brief cameo as career prison escape artist Damon Pennington to start John on his way, outlining the basics John needs to get Lara out of the urban Pittsburgh lockdown. The rest falls on Brennan to figure out, from finding a criminal to create fake identification papers to creating the distraction to actually spring Lara.
Once Brennan's plan is put into motion, enter Jason Beghe as Detective Quinn, Aisha Hinds as Detective Collero, Lennie James as Lieutenant Nabulsi and Allan Steele as Sergeant Harris. They swing between wondering about Lara's guilt or innocence, and the deciphering of Brennan's plan itself. John leads them on a merry chase, zigging when the police expect a zag. The best part of the film is the cat and mouse between John and the cops.
What will a man do to right a wrong? What lines will he cross or moral codes will he break? Damon Pennington warns Brennan that if he cannot become the man that would leave his son behind or become the man that would kill a guard to keep the plan moving along, don't start. With blinders on for only his wife and son, he may want the plan to work too much. And if that is the case, what of himself will he leave behind?
Worth: Matinee or Netflix
I am also trying out a new rating system shown below based on reader reaction to my somewhat complex monetary rating scale. I will give both ratings and see what kind of reaction I muster. A movie can receive up to 5 popcorn buckets. Why popcorn buckets? Because I am a slave to the thousand + calorie delight! Enjoy!